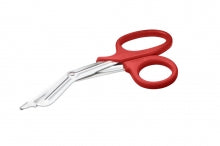 7 1/4″ EMS Shears will cut almost anything. EMT's use these incredibly sharp, strong shears to cut off shirts, leather pants, shoes and other items to quickly expose the patient to see what the problem is and to treat it.
Traditional 7 1/4″ length for maximum leverage and strength
Stainless steel safety bandage tip
Razor sharp, super-hardened surgical stainless steel blades with one serrated edge to cut through the toughest material
Blades tempered to a Rockwell hardness of C56 for unsurpassed durability
Also available in 5 1/2″ length for a smaller carry factor. This model has a polypropylene safety bandage tip color coordinated to the handle
These shears belong in every medical kit and even in the kitchen and shop!